Jeremiah
Welcome to the March 2023 Coral Island development update!
Please check out our Steam page to purchase the game and find out more: swg.gg/corstm
This month's dev update is part 1 of our showcase of the upcoming Summer update. On this post, we'll highlight summer outfits, the Pet Day festival, fire gate mining, and more!
We're planning to release the Summer Update sometime in May 2023.
Summer Outfits


Coral Island features seasonal outfits for most of our townies. We're excited to release the second set of seasonal clothing in this upcoming update: summer outfits! Here's a preview:
[Oh yes he did!]
Townies start the day wearing their seasonal outfits. We've captured some footage to show this in action!
[Aaliyah in her summer outfit]
[Scott got his glasses on!]
[Yuri in Wabanana crop top]
[Wakuu in his summer hair?]
Pet Festival
Another WIP festival will be accessible for the upcoming Summer Update: The Pet Day Festival. This festival occurs every Summer 00 and can be triggered in town. Don't miss it!
[Pet day festival]
Eventually, you'll be able to participate in four activities at the Pet Day festival: Rodeo, Cow Competition, Chicken Competition, and the main event, the Pet Race. The upcoming Summer update will include the rodeo, cow, and chicken competitions.
Available activities
[Rodeo. Stay on for as long as you can!]
[Cow competition. Get moooving!]
[Chicken competition. Reminds us of a time back in nature.]
Future activities
Starlet Town has an animal shelter housing over 20 adoptable pets. Once you've adopted a pet, you'll be able to participate in the pet race. Below is a tease at all of the adoptable pets, most of which are designs from our backers!
[Best pets in the world!}
Fire Gate Mining
The last gate in Starlet Town will become available in the upcoming update. You'll find more gems and, most importantly, come across osmium ores in the fire gate. Have a look:
[Osmium ores!]
[Sorry Slime but farmer need ores.]
B.O.S Hideout


New interior alert! In preparation for the revamped combat experience in the game, we've added a new location called the B.O.S hideout. This is where you'll need to go to progress in combat.
[A great place to meet up with other B.O.S members.]
New Customization
More hairstyles, beards, hats and outdoor decor are coming in this update!
Kickstarter Rewards


We wouldn't be where we're at if it weren't for our backers. In the Summer Update, backers with tiers "Just the Game" and above will receive one code to redeem two exclusive outfits. One is Kickstarter Exclusive "Farmer Outfit" set, and the other is an additional free cosmetic called Pandabacker. Take a look at the reward below:
Fruit Plants & Ocean Critters
More fruit plants and ocean critters have been added to the game. You can purchase the new fruit plant at Sam's General Store and find the new critters while diving in the ocean.


[Dragon fruit, Jack fruit, and Avocado fruit plants!]
[New critters for you to catch and donate to the museum!]
Insect & critter traps
As part of the catching mastery, you'll now unlock traps used to catch insects and critters. You can place these on the ground and in the ocean. There are 4 traps, 2 for insects and 2 for critters. Here's a look at traps in action:
[Applying scents to traps will influence what you catch!]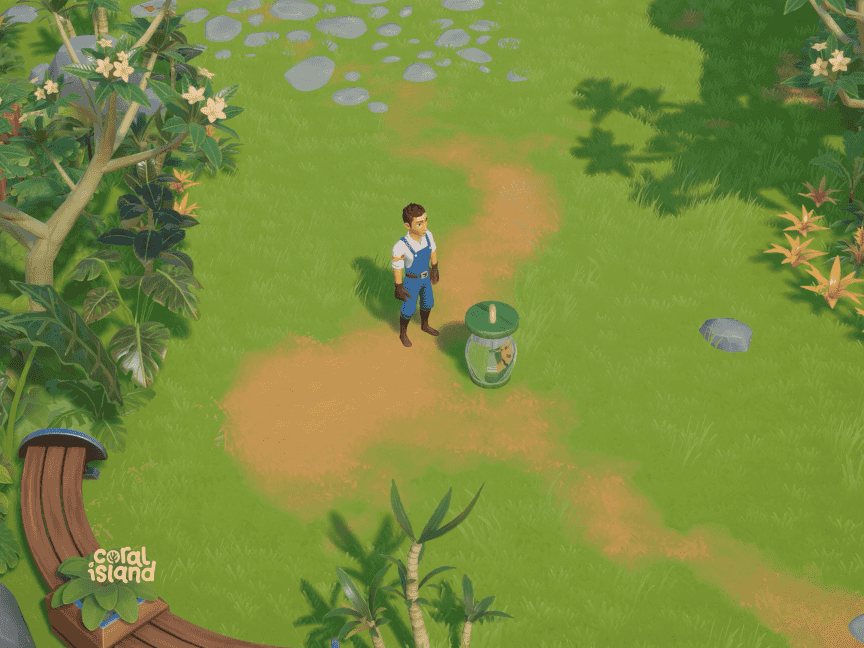 [Traps passively catch insects/critters when placed on ground or ocean beds.]
Sprinkler III
You'll be able to reach Mastery level 9 in the upcoming Summer Update. This means access to Sprinkler III. Compared to Sprinkler II, which has a coverage of 5x5 (24 tiles), Sprinkler III covers a 9x9 area (80 tiles).
[Sprinkler coverage comparison.]
Whats next


Next month we'll go over part 2 of the Summer Update and showcase the following: - New ranch animals
- Scent mechanic
- Ring mechanic
- Combat beta overview
- Fish pond & insect house
- Sprinkler attachments (auto seed and auto fertilizer!)
- Balancing & memory optimization
- Errands


Thanks for reading,
Stairway Team