Jeremiah
September 2020 Dev Update
Updated: Oct 1, 2020
Welcome to the September 2020 Coral Island development update! If you haven't already, do check out our Steam page to wishlist the game and find out more: swg.gg/corstm
Character Reveals
Meet Nina, Kenny, Pablo, Betty, Suki (left to right).
Nina. This bachelorette technically doesn't live in Coral Island anymore, but still visits her vacation home at the beach, from time to time. Aside from wild rumors around town, she's never talked about her abrupt departure, so it remains a mystery until now. A close friend with Suki.
Kenny, a part-time rancher, and full-time bachelor. He grew up in Coral Island and has fostered close relationships with other islanders-- be it people, animals, trees, spirits from the beyond-- all of them. Besides making friends, he loves having lunch outdoors, playing the flute, and cold kombucha
Pablo: He and his brother, Rafael, are both blacksmith and bachelors. When Pablo isn't smelting ores, he can be found around town, lending hands to the townfolks, cleaning up the graveyard, or tossing anecdotes at the Tavern. Hates beaches—Dislikes sands in his shoes.
Betty. Back in the day, Betty used to run the Tavern with her late husband, Frank Sr.. Now, she spends her retirement days going around town re-filling bird feeders, educating kids about coral reefs, and baking patisseries.
Suki is recently divorced and, according to her nightstand, currently "finding love from within," and learning "how to expand love." Focusing on herself, she drowns herself in work, exercise, and building a healthy co-parenting relationship with her ex.
The Lineup So Far - We are officially over halfway through our character reveals!
Tile Menu Animations
Very excited to show more of the title menu. We've added several more animations. You can also check out styling for the options, new game and load game sections.
[main screen]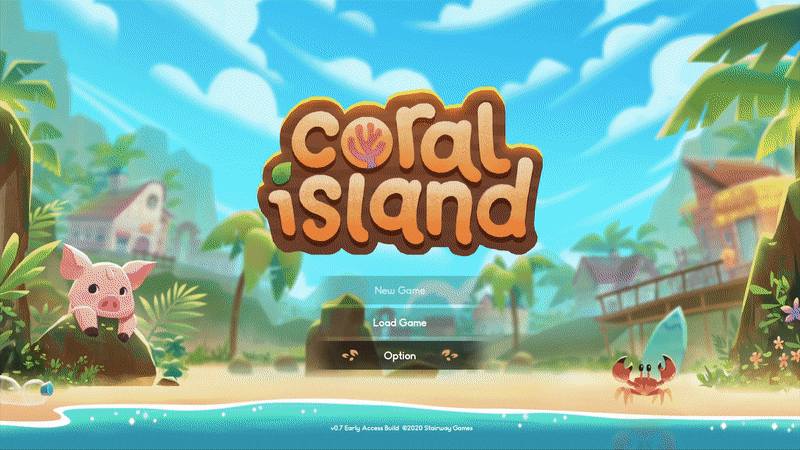 [options section]
[load game section]
[new game section]
Interior Decoration System WIP
We've been hard at work implementing the logic of the interior decor system. It is now fully functional! Next is designing the UI, paying attention to both style and function. We'll be asking the community for feedback in Discord this coming month.
[check out those icons!]
[we're still toying with the manner in which players move items]
NPC Activity Animation
Coral Island features a large cast of NPC's. Several of the islanders have unique professions and or responsibilities in town. We're implementing a wide range of animations that certain NPC's will play. The goal is to breathe life into these characters.
Spring Main Theme Music
We feel that music can help us to transport you to the shores of Coral Island. Today we are pleased to reveal the main theme song for Spring. Please let us know your thoughts!
Town Center Building & House
A lot of work continues to be done in populating the game world. Featured this month is the town center, where both the museum, library and communal area reside. Somewhere in town, check out the house belonging to Lily, Theo and [redacted].
Whats Next
[your next batch of characters!]
For October, we are not yet sure if we will reveal diving or ranching, but it will be one of those! You can also expect to see more character reveals and other areas in game. As always, your feedback is appreciated.
Thanks for reading, Stairway Team